Metrofashion.com Magazine Jenni Kayne Fall Winter Fashion Design Collection

Mercedes Benz Fashion Week Los Angeles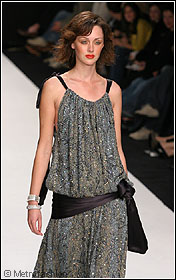 Showing at Mercedes Benz Fashion Week Los Angeles were Petro Zillia, Jenni Kayne, Sue Wong, Michelle Mason, among others. Petro Zillia Fall 2005 Los Angeles reflects the 1970s disco era with large lapel tweed suits over green, blue, and pink separates, boucle coats with fur collars, and clever twists on herringbone and leopard chiffon.

Runway Photography ©Metrofashion.com All Rights Reserved. Jenni Kayne Fall Winter Los Angeles.

Jenni Kayne Fall 2005 Los Angeles shows a continued emphasis on the tensions between sexuality and propriety. The collection is rich with plum, chocolate, black, and dark navy. Supple coats made of cashmere and velvet warm the pallet while feminine touches such as illusion ruffle shoulder sleeves and a rabbit capelet provide allure. Most signature: a chocolate and white charmeuse mini ruffle dress under a plum velvet double-breasted jacket; a little for him, a little for her.