Metrofashion.com Volume IV Issue 6 October 2007
Dina Bar-el Revisits Old Hollywood for Fall 2007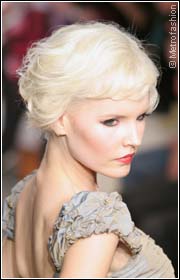 Satin Gowns and Mixed Metallic Colors
©2007 Metrofashion.com- Dim the lights and one imagines Hedy Lamarr or Lana Turner coming down the red carpet in Dina Bar-el's sultry Fall Winter 2007 Collection for Los Angeles Fashion Week. Working with crinkle fabrics for cocktail and plunging satin silhouettes for evening, Bar-el heightened the anticipation.





Each design led to the next - first fitted waistlines with spaghetti straps, then add capsleeves, then corsets. First silver satin gowns, then add black lace trimming, and progress to illusion bodice. Dina Bar-el Fall 2007 brings back the tight curls and saucer eyes of the Golden Hollwood era, when red carpets were special occasion fashion shows and the flashbulbs were hot and close.

Rather than nostalgia, Bar-el evokes timeless glamour by adding contemporary embellishments like crystal buttons on a navy corsetted gown or an ivory satin scarf wrapped across the bodice (both shown below.) The effect is classic Hollywood arrival with finessed accoutrement for conversation. The lady today doesn't just appear, she engages. Much to our pleasure.


PHOTOS: ©2007 Metrofashion.com All Rights Reserved. Cover above: Dina Bar-el iridescent sweetheart evening gown for Fall Winter 2007-2008 Los Angeles Fashion Week Collection from Smashbox Studios in Culver City, California, USA. Below Left-to-right: Dina Bar-el Fall 2007 forest taffeta cocktail dress, Bar-el Fall 2007 dusty-pink crinkle cocktail dress with embroidery, Bar-el Fall Winter 2007 metallic brown corset sheath, Dina Bar-el Los Angeles navy corset gown with flyneck, Bar-el Fall 2007 metallic empire halter with brooch straps, Dina Bar-el Fall Winter 2007 2008 black mermaid evening dress with lace trim; stylist David Thomas hair Sean James.
| | |
| --- | --- |
| | ©Metrofashion.com. All Rights Reserved. Metrofashion.com covers the world of fashion with vibrant runway photography and fashion designer stories. |