Episode Ashley Paige Bikini Or Bust Episode The Ascension Of Antionette August 8 2008
FASHION PROFILE
episode Ashley Paige Bikini or Bust episode The Ascension of Antoinette August 8 2008

Television network TLC presents a new fashion series based on the story of famous swimsuit designer Ashley Paige and her efforts to build her fashion label business. The show is called Ashley Page: Bikini or Bust and airs Fridays at 10:00PM.

Season 1 Episode 10 Summary: The Ascension of Antionette. Ashley decides she needs better PR to help get her business to the next level, but she quickly discovers that good PR is way out of her price range. Her loyal assistant Antoinette insists that she can do the job,but maybe Antoinette has enough to handle. Will Antoinette step up to the plate and get Ashley the coverage she needs? And about Leah and her ideas for exposure?

Ashley meets a charming customer who comes into the store looking for the perfect summer bikini. But the customer doesn't know Ashley by face and mistakenly questions her ability to produce the custom design. When Ashley reveals herself, the customer is overwhelmed with joy as she is a huge fan of the Ashley Paige bikini line. After the deal is done and the customer leaves, Ashley realizes it is time to develop her persona publicly so that fashionistas can put the famous name with the human face. So she decides to pursue PR (public relations) support to develop her biography and celebrity identity.

Office assistant Antionette steps up and offers to do the work; Ashley is skeptical but encourages her to give it a try. Then Ashley heads off to talk with HSM, a PR firm and friend of her line, about getting professional PR for celebrity exposure. The meeting goes great and Ashley is excited, then she learns how expensive the work and commitment can be and is floored again about her lack of funds. Sound familiar?

Back at the store Antionette has made progress on getting the hip 944 Magazine to consider Ashley's bikini line for an upcoming summer theme issue and the cover photoshoot. She promises a little too much to Ashley though, and the enueing process of attending the shoot, working out the real opportunity, and facing the challenges of world-class PR bring out Antionette's true colors.

In an interesting side story, Ashley's mom is determined to help Ashley's sales by spreading the message. So she creates marketing flyers and distributes them at Venis Beach. The scenes of Leah meeting and greeting with casual beach-goers are precious, a gritty slice of American entrepreneurship. When Ashley finds out about Leah's industriousness, we learn about how Ashley really sees her own brand identity.

For aspiring fashion designers, "The Ascension of Antionette" is an eye-opening story. Ashley has progressively sought outside professionals in many areas of her business and now steps up to the plate to pursue celebrity public relations for her bikini line. Antionette does a great job of focusing on the strengths of Ashley's brand when presenting it to a potential outlet and then persists in finding a fit for exposure that is a win-win for Ashley Paige and the magazine.

Here we get to see the development of a world-class brand even in the modest yet effective approach to presenting the brand to a broad audience. Ashley shines when interviewed, and her choices for staff members with loyalty and problem-solving skills really pay off. Even the simple scene of Juan redirecting Leah to a project she can complete and feel proud of show the wise choices Ashley has made in building a team.

Not to mention that the photoshoot of Ashley Paige bikinis with topmodel Jessica Miller is spectacular. Much of the story in Ashly Paige: Bikini or Bust is really about trying to organize a lifestyle for Ashley that supports her extreme talent. While we would love to see even more of the actual fashion artwork in action, like the sketching, the sewing table construction work, more of the Project Runway-type material, the series entertains by showing how success of the Ashley Paige swimwear line will depend as much on managing Ashley's sometimes chaotic world as it depends on the bikini designs themselves.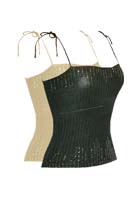 METROFASHION GLAMOUR INDEX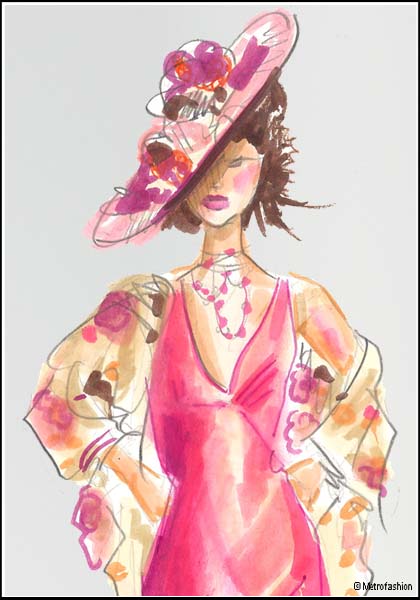 Fashion Sketches Fuschia Casual Evening Dress
Fuschia Casual Evening Dress with Halter Neckline and Rose Beaded Necklace, Accented with Matching Sheer Floral Shawl and Embellished Sunday Hat.
©2009 Metrofashion.com All Rights Reserved.