Metrofashion.com Volume IV Issue 5 September 2007
Bebe Fall 2007 Collection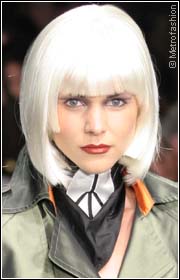 L.A. Rock Chic sets tone for Fall 2007 Trends
Hey Bebe. There's nothing petite about the bold Bebe Fall 2007 Collection that designer David Cardona sent down the runway in Los Angeles. From black leathers hoodies to space age high boots to belt bordering to contrasting olive tones, Bebe Fall 2007 is a revelation in 80s rocker chic.

A little bit of punk, a little bit of ghetto, Cardona has cut a delicate balance between commercial and cutting edge. The Collection includes metallic color tones with pocket details for the Ipod generation, while nodding to the immigrant in all of us with conductor caps sporting the Bebe faux timepiece symbol. Highlighting the fine line between fashionista and fashion victim, Bebe goes over the top with wide lapel bomber jackets subdued by sexy dark matte bottoms in form-fitting fabrics. It's military glam without excuses.

Patricia Arquette dolls prancing up and down the catwalk in stark fall palette. Could it be a twisted throwback to World War II fighter pilots? With the oversized cropped coats and long scarves? Or maybe the babydoll look of dusty pink daycoats with epaulets softens the respectful pilot wife? In any case, she's belted, collared up, and ready for duty in Bebe Fall 2007.


PHOTOS: ©2007 Metrofashion.com All Rights Reserved.
| | |
| --- | --- |
| | ©Metrofashion.com. All Rights Reserved. Metrofashion.com covers the world of fashion with vibrant runway photography and fashion designer stories. |