San Francisco Fashion Week 2005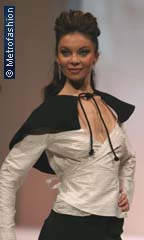 Couture Designers Epitomize City Style
©2005 Metrofashion.com- Colleen Quen shows a strong 2005/ 2006 line At the second annual San Francisco Fashion Week™ 2005, French trained couterier Colleen Quen perfectly encapsulates the city's fashion style. During her "Treasures Within" show, the fashion audience cheer with applause as models grace the runway clad in finely tailored evening gowns.

Two gowns titled "Sapphire Elegance" and "Blue Opal Energy" played the stage in sapphire blue French lace and angora with brown tulle trimming. An Empire evening ballgown, "Rhinestone Creativity", showcases Quen's expert couture tailoring with a sleek black top and reams of white tulle skirting, festooned with fabric designer's Jocelyn Hines' black and red appliques, punctuated at the waist with a smart red stain ribbon.





To achieve the precise custom fit that her couture clients like Tyra Banks, Paris Hilton, and Gina Davis demand, Colleen Quen creates a moulage, or "second skin" of the client's body from 36 measurements. A native of the Bay Area, her inspiration for this year's San Francisco fashion show is world travel and a continuing fascination with flowers' natural forms and movements.

The highlights of this year's Fashion Week are from the city's premiere couture designers, particularly Quen and Christina Hurvis. The week sparked with emerging talent such as women's wear line His by Her and local heavyweights like Levi's, however, even stars from "America's Next Top Model", walking for the emerging designers / local fashion university graduates show.

Highlights Kimberly Guilfoyle Newsom walks the runway in the "Touch Benefit" charity fashion show during SF Fashion Week, supports underserved women and children. Photography ©Metrofashion. San Francisco Fashion Week™ Mystery Girl Productions.