Metrofashion.com Volume IV Issue 7 November 2007
Peasantly Surprized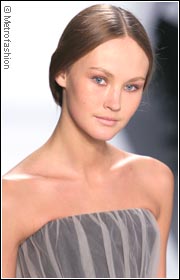 Reem Acra's Timeless Fall Designs
©2007 Metrofashion.com- The essence of fashion is its ability to transform mood. Looking back at Reem Acra's brilliant Fall Collection from last year, one can see how such transformation occurs.

Acra's delicate chiffon fabrics matched with antique metallic beading ushered in a new definition of elegance, at once modernizing the concept of peasant simplicity while paying homage to the craft of fine jewelry.

Reem Acra Fall Collection showed exquisite jeweled pullovers and body suits in dark rich colors of evergreen, charcoal, and bronze. Simple pieces adorned wtih iridescent pailletes and mitered details. Contrasting black-white combinations and grey layering.

A basic wardrobe glamourous enough for a village princess. Beautiful chic urban evening dresses with lush fall personality. Opening up possibilities for reinventing those closeted garments from years ago. Reem Acra has taken our pilgrim past and created a bright fashion future. Fall 2007 Trends influences: comfort, a-line sensibility, silk peasant blouses, opulence, middle earth adornment.


PHOTOS: ©2007 Metrofashion.com All Rights Reserved. Cover Above: Reem Acra Fall Winter 2006 2007 Collection from New York Fashion Week at Bryant Park Tents. Below left to right: Reem Acra Fall Winter 2006 2007 Evening Dress Collection, Taffeta High-Waisted Skirt with Simple File Blouse Adorned with Antique Metallic Beading, Grey-Toned Empire Chiffon Dress with Raw-Edged Laces over Tulle Layering, Silk Jacquard Bronze and Dark Blue Skirt Matched with Emroidered Tulle Bodysuit with Velvet Detailing.
| | |
| --- | --- |
| | ©Metrofashion.com. All Rights Reserved. Metrofashion.com covers the world of fashion with vibrant runway photography and fashion designer stories. |