Metrofashion.com Volume IV Issue 2 June 2007
Sue Wong Heralds the Rebirth of Dresses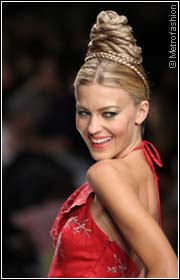 Flirty 2007 Baby Doll Cocktail Dresses
©2007 Metrofashion.com- There's sexy then there's spring sexy. Sue Wong's Spring Summer 2007 chiffon cocktail dress collection has something for everyone.

The prolific Los Angeles fashion designer expanded her signature beaded looks to 2007 psychadelic prints, native patterns with wood block detailing, and flirty Hollywood aspirational styles.

Sensing a shift back to femininity, Sue Wong fills the summer wardrobe with granny cuts, bouncy trimmed baby dolls, and South of the Border fiesta colors and sarongs.

All draped in flowy silk chiffons and crinkle fabrics with floral embroideries and appliques.


PHOTOS: ©2006 Metrofashion. Cover: Sue Wong Spring Summer 2007 Collection. Left to right below: psychadelic print cocktail dress with beaded medallion borering, short dress with paneled lurex silk skirt, celadon silk baby doll dress with beaded yoke