American Fashion Designer Ralph Lauren Dresses the 2008 USA Olympic Team Opening Ceremony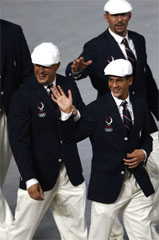 New York, NY, USA, August 8 2008- The Official Opening Ceremony Parade Outfits of the United States Olympic Team designed by Ralph Lauren debuted today in Beijing, China for the opening of the 2008 Summer Olympics.

Ralph Lauren created an elegant and contemporary styling for the U.S. Olympic Outfits, with navy blue blazers evoking the heritage and legacy of the 1920's and 1930's tailored silhouette.

Photo/press release: courtesy Ralph Lauren

The blazer is adorned with the iconic Polo Pony and the 2008 U.S. "Look of the Team" logo, accessorized with red, white, and blue silk ties and matching sneakers.

In addition, Ralph Lauren has provided designer fashions for the U.S. Olympic Team during their stay in the Olympic Village, a casual sportswear look that includes zip-up hooded sweatshirts and track jackets, embellished with official U.S. Olympic Team logo and classic Polo pony logo. Chinese characters reading Beijing decorate the apparel, and special logo sunglasses complete the style.