Coral Dresses Glow on the Emmys 2009 Red Carpet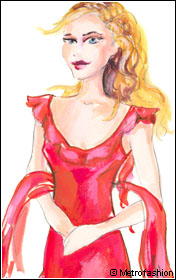 September 20, 2009 Los Angeles- For fans of red dresses, the 61st Annual Emmy Awards Red Carpet did not disappoint. Toni Collette, winner of the Emmys Award for Lead Actress in a Comedy for her role in The United States of Tara, wore a striking coral strapless princess gown, while Hayden Panettiere of Heroes doned a beautiful J. Mendel coral one shoulder gown with wrapping.

Metrofashion Studio Fashion Sketch Coral Red Dress ©Metrofashion.com

Creams, golds, and dusty pinks in beaded silhouettes were popular as well as the assymetric look now made classic by First Lady Michelle Obama. Chritina Appelgate, nominated for her character on Samantha Who, bucked the trends with a bold midnight blue gown with black beadwork and deep vneck back. Overall, the Emmys 2009 Red Carpet followed the Fall 2009 trends in mixing lush colors with basic elegant styling.

The 61st Annual Emmy Awards ©Academy of Television Arts & Sciences.
2005 Emmy Awards (57th Annual) Red Carpet Fashion

The 2005 Emmy Awards, held in the Shrine Auditorium at the LA Coliseum, was filled with starlets glowing in all shades of color. The current fall fashion color themes were in full force on the red carpet, including deep medium blues, forest green, plums and rich chocolate. Also prevalent were seashore tones in forest green. golds and taupe, ice blue and off-white.

Halle Berry wore a georgeous high low hemline, strapless sweetheart gown with a cascading chiffon front flounce, which wispered pale blue under-skirting. Currently filming the 3rd Xmen movie in Canada, she presented at the Emmy's and no doubt will return to the set ASAP. Eva Longoria had no idea that the swimsuit she wore to the VMA awards would cause such a stir, but she must have anticipated the interest in her gown choice at this year's Emmy's red carpet as she stole a look from 1960s fashion in a flirty coral dress by Sanchez replete with a wide collard Grecian neckline and deep V front.

Debra Messing; a favorite red carpet winner, wore an Elie Saab dark cholocate evening dress with a sequin bodice and mid-V back. From the hit show CSI, Marg Helgenberger wore a light purple lace halter dress with satin waist sash by Monique Lillier, shoes by Stuart Weitzman and a Fendi evening bag. A favorite silhouette of the evening was the empire gown shown best on Teri Hatcher of Desperate Housewives. She glowed in a midnight blue strapless gathered empire dress. A Jay Mendal gown made exclusively for Teri, featured a 2 inch hand beaded sash around the bustline and flowing chiffon skirt. more soon...
FASHION FEATURE: 2004 EMMY AWARDS FASHION (56th EMMYS)
Fashion at the 2004 Emmy Awards...
Vintage-inspired evening gowns abounded on the red carpet, in shimmering satin and chiffon, often in lace or beaded trimmings. White dominated this year's Emmy Awards. Joely Richardson from the program "Nip/Tuck" showing a bronzed leg in a high thigh split, asymmetric white Grecian dress.

Jennifer Aniston's white Chanel strapless gown with sparkled with gold beadwork. Jennifer Garner channeled vintage glamour in a low-back, lace embroidered gown and wide black satin waist tie.

Colors ranged in solid, clear hues - an off-the-shoulder long sleeve periwinkle gown for Bonnie Hunt, Mariska Hargitay in a Kelly green formal dress by Vera Wang, and Lorraine Bracco in a Douglas Hannant green embroidered gown. Basic black stepped up the style of winner Sarah Jessica Parker, in a strapless black lace tea-length frock by Chanel Couture and Laura Linney in a Prada cocktail dress shimmering with beads.
Academy Awards® 2004
Slinky and soft, most actresses opted for well known silhouettes with modern touches of border fancy... more

Jennifer Garner is graceful in a vintage Valentino evening gown with a Fendi gold "Radio" clutch evening bag... more
FASHION FEATURE: 2003 EMMY AWARDS (55th ANNUAL)
Emmys Fashion 2003... Many of the stars at the 55th Emmy's awards show took their style queues from the color palettes of the New York Spring 2004 fashion shows. The front rows glowed in evening gowns of sunset hues like fuschia, mango, pinks, and blues. Creamy neutrals also shined on award nominees Lena Olin and Jennifer Garner of Alias, both exquisite in ivory and pale peach satin dresses.

Presenter Jeri Ryan made a dramatic entrance in her revealing silk charmeuse evening gown of silvery cream with deep v-neck plunge. Plunging v-neck gowns, popular last year, were back again along with a new evening trend towards dropped waists. Dropped waist dresses accented the figures of Christina Applegate, in a pale blue pleated chiffon formal dress by Valentino, and Courtney Thorne Smith, in a classic Herve Leger elongated crystal tiered black dress. Sarah Jessica Parker color-matched with husband Matthew Broderick's dusty rose tie as she stunned the Emmy audience in a pink Chanel confection of a ballgown. Ruched and gathered in chiffon, tulle, and sequins, the gown had a subdued high/low hemline, showcasing her famous feet.

Debra Messing claimed her Emmy award clad in an Elie Saab evening ball gown with sweeping back train, Jimmy Choo heels, Cartier ring, and H. Stern chandelier earrings. Strapless and gathered at the side, the amber and copper design of the dress perfectly framed her winning smile. Notable fashion marks for the men went to winner Jon Stewart's trim black suit and subtly sparkling black tie and Joe Pantoliano's vest and tie in light blue satin with white polka dots. Gorgeous gowns and tuxedos abounded, but this year's fashion focus at the Emmy's was all ears: dripping chandelier earrings in precious jewels. Best chandelier earring styles included Debra Messing's triple-tiered pink tourmaline teardrops and Jane Kaczmarek gold arabesque shoulder dusters.

Chirstina Applegate, 2003 Emmys
(Click here for more fashion sketches)

2003 EMMY WINNERS
Outstanding Lead Actor In A Comedy Series
Tony Shalhoub as Adrian Monk, Monk
Outstanding Lead Actor In A Drama Series
James Gandolfini as Tony Soprano, The Sopranos
Outstanding Lead Actress In A Comedy Series
Debra Messing as Grace, Will & Grace
Outstanding Lead Actress In A Drama Series
Edie Falco as Carmela Soprano, The Sopranos
Outstanding Comedy Series
Everybody Loves Raymond
Outstanding Drama Series
The West Wing
FASHION FEATURE: 2002 EMMY AWARDS (54th ANNUAL)
Emmys 2002... The fall trends prevailed at the 2002 Emmy Awards, as the stars sparkled down the red carpet in plunging necklines, embroidered overlays, and chiffon and satiny dresses. The most prevalent trends were patterned, silvery ties for the men and rich, solid jewel tones and soft peach gowns for the women. Fashion winners included Debra Messing from Will & Grace in a black "dominatrix" inspired gown by Michael Kors, sparkling diamond chandelier earrings, Manola Blanik shoes, and radiant swept-back curls (see fashion sketch), Kristin Davis of Sex and the City in a dramatic, midnight-blue Badgley Mischka evening gown with jewel décolleté accents and high thigh slit, radiant Alias' Jennifer Garner in a pale-peach strapless asymmetric gown with softly gathered side ruffles and light chiffon wrap, and award-winner Jennifer Aniston of Friends looking ethereal in a peach vintage-inspired formal dress with a sparkling, deep v-neckline and long chiffon wrap.

Debra Messing, 2002 Emmys
(Click Here for more fashion sketches)

2002 EMMY WINNERS
Outstanding Lead Actor In A Comedy Series
Ray Romano as Raymond, Everybody Loves Raymond
Outstanding Lead Actor In A Drama Series
Michael Chiklis as Detective Vic Mackey, The Shield
Outstanding Lead Actress In A Comedy Series
Jennifer Aniston as Rachel Green, Friends
Outstanding Lead Actress In A Drama Series
Allison Janney as C.J. Cregg, The West Wing
Outstanding Comedy Series
Friends
Outstanding Drama Series
The West Wing
FASHION FEATURE: OSCARS® AND AWARDS
Oscars® 2002 ... The 74th Academy Awards® from the Kodak Theatre in Hollywood Oscars® fashion for 2002 was conservative and glamorous, acknowledging the tragic events of September 2001 while forging ahead with world-class entertainment and style. Oscars® is watched by "a billion people," as one overwhelmed winner stammered, and Hollywood was dressed for the occassion both on the Red Carpet and in the Show. Fashion highlights: The women wore lots of black gowns, mostly strapless and/or sheer, and the men were also donned mainly in black tuxedos. Renee Zellweger, Reese Witherspoon, Naomi Watts, and Marcia Gay Harden wore black, while Halle Berry, who won Best Actress for Monster's Ball, wore cranberry with sheer and leaf appliques, Nichole Kidman wore pale pink, and Sissy Spacek broke ranks with a suit jacket combination. More coming soon...

Renee Zellweger from Oscars® 2002
(Click here to see more fashion sketches...)

WINNERS
Best Motion Picture
A Beautiful Mind, Brian Grazer, Ron Howard, producers
Best Leading Actor
Denzell Washington, Training Day
Best Cinematography
Lord of the Rings: Fellowship of the Rings, Andrew Lesnie
Best Leading Actress
Halle Berry, Monster's Ball
Best Writing - Adapted
A Beautiful Mind, Akiva Goldsman
Best Supporting Actor
Jim Broadbent , Iris
Best Writing - Original
Gosford Park, Julian Fellowes
Best Supporting Actress
Jennifer Connelly, A Beautiful Mind
METROFASHION MAGAZINE
Formalwear Winter/Spring 2002 New Commitments bring New Style... Perhaps no formalwear season of the last 30 years is more important to the fashion industry than the Year 2002 season - designers, retailers, and boutiques anticipate a surge of special occassion shopping as American consumers reaffirm their commitment to family, community, and charity through weddings and events. The New Fashion Values of 2002 have already influenced formalwear styles for prom dresses, bridal gowns and bridesmaid dresses, and special occassion evening gowns.

The first influence is the highlighted bodice; designers this season are placing more emphasis on fitted shapes with striking color and embroidery or ornaments. In our cover shot from Macy's Passport '01, Jessica McClintock's fairy green, plunging v-neck gown is crisply molded and matched to the extravagant floral inlay of the skirt. Also shown is the deep backline and decorative mosaic design of another Jessica McClintock creation. With the globalization of fashion trends, simplifying and highlighting the bodice in formalwear designs broadens the designer's reach across clutural expectations.

The second influence is the bold feminine shape; designers are using sheath, trumpet, princess, mermaid, and a-line styling to create curvy dresses, many with corseted or structured undergarments, reasserting the womanly look in this season's formal line. Gone are the demure straight silhouettes and the tailored workwear looks of the late 1990s. The post-9/11/01 woman attends her public as a proud yet traditionally sensual creature.

Which leads to the third influence, the new emphasis on soft, feminine expression through silk and chiffon overlays, lace bordering, and beaded or rhinestone hems, lines, and straps. While the 2002 party-goer is simply elegant with brilliant structural accents, the 2002 bride dons a flowing gown overlayed with embroidered or appliqued sheath. Soft satin silk is the fabric of choice, with form-enhancing embellishments to match the wearer's personality.
OSCARS® 2001
Oscars® 2001 ... The 73rd Academy Awards® from the Shrine Auditorium Jennifer Lopez at the Academy Awards® (does the phrase "fashion spectacle" come to mind?)... Marcia Gay Harden ... from the red carpet, "Dad, I never realized that you and the boys were so into haute couture in the 7th Fleet." Marcia was dashing in a red Randolph Duke gown. Michelle Yeow ... (wearing) designer Bonnie Chang. more - click here.

Jennifer Lopez, 2001 Oscars®
(Click Here for more fashion sketches)

WINNERS
Best Motion Picture
Gladiator, Douglas Wick, producer
Best Leading Actor
Russell Crowe, Gladiator
Best Cinematography
Crouching Tiger, Hidden Dragon, Peter Pau
Best Leading Actress
Julia Roberts, Erin Brockovich
Best Writing - Adapted
Traffic, Stephen Gaghan
Best Supporting Actor
Benecio Del Toro, Traffic
Best Writing - Original
Almost Famous, Cameron Crowe
Best Supporting Actress
Marcia Gay Harden, Pollock
Best Film Editing
Traffic, Stephen Mirrione
Best Director
Steven Soderberg, Traffic
Oscars® Fashion Links: Australian Press bright photographs from red carpet (e.g. Renee Zellweger waving and smiling) | Hollywood Stock Exchange Insider's Guide | RealCities Network covers red carpet fashion | American Movie Classics looks at Oscar fashion | GiorgioArmani.com (see screenshot below) | Los Angeles Times Oscars® fashion coverage
Oscar® 2000 Links
EOnline.com: Elle MacPherson and Elizabeth Hurley at the Elton John party! | SMH Australia: top Oscars® designers | EOnline.com: Charlize Theron glamour on the red carpet | Go.com (MrShowBiz): Oscar® Chic with top picture Charlize Theron! | Go.com (MrShowBiz): Lucy Liu on the red carpet | Go.com (MrShowbiz): Charlize Theron in tangerine on the Red Carpet
The Muse Hotel, New York "Question the conventional. Every great artist does, and so did we. The result is a hotel that caters to the individual, providing everything you need to be at your best. Visit The MUSE. Stay Inspired."
Oscars®, Academy Awards®, and related marks are registered marks of the Academy of Motion Picture Arts and Sciences.