Kevan Hall Presents Spring 2010 Collection during Ruznak Luxury Evening at Universal Studios Backlot
Luxury High Performance Automobiles Embellish the Runway for the Premier Spring Summer 2010 Hollywood Evening Gown Collection from Red Carpet Designer Kevan Hall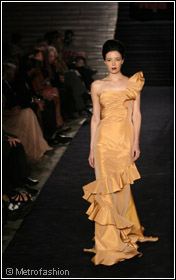 Kevan Hall turned the idea of fashion sketches on its head Saturday night by presenting a complete lookbook of immaculate gowns that evoked the ideal of the sketches one would imagine had inspired them.

Photography ©2009 Metrofashion.com Kevan Hall Spring 2010 Los Angeles from Universal Studios Backlot during the Ruznak Night of Luxury

With crisp lines and minimalist diamond accessories set against a palette of muted spring colors, Kevan Hall Spring 2010 seemed to emerge from the canvas of the Universal Studios Backlot coliseum prop as if from some animated dreamland.

Dress after dress altered the focus, from pleats to waist adornment to delicate brooches to organza brocade. With the constant theme of rich muted natural colors in peach, lavender, cyan, cream, goldenrod, and so on.

Bold, dramatic gestures of elegant, chic, modern Hollywood, attuned to its fantasy heritage while aware of its critical role in determining evening trends and affecting boutique bottom lines. Set in the context of the Ruznak Evening of Luxury and the unveiling of the 2010 models of the world's most exclusive automobiles, Kevan Hall Spring 2010 presented each style on its on merit, ushering in the 2010s decade for luxury evening gown design.