Los Angeles Fashion Week 2009 Italian October Homecoming Classic Sportswear Style 1 2009 Inspiration
FASHION PROFILE
Los Angeles Fashion Week Designer Shows Edgy Leather Accented Sportswear Club Styles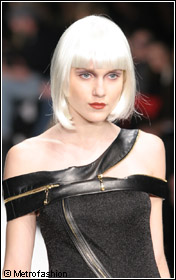 Los Angeles Fashion Week brings together fashion designers from the diverse spectrum of California styles. Ranging from the edgy contemporary rocker looks of Sheri Bodell and the red carpet gowns of Kevan Hall to the costume-inspired creations of Gen Art designers like Quail and feminine lines like Coco Kliks, LA Fashion Week exhibits the broad spectrum of 21st century fashion design.





Los Angeles Fashion Week October 2009

Photography ©Metrofashion.com. bebe for Los Angeles Fashion Week.

bebe is an American fashion house whose contemporary luxury collection has exploded onto the Los Angeles fashion scene in recent years, culminating in an exciting LA Fashion Week show at Smashbox Studios. Black leather bordering with black wool tops and pants in various constructions. Belted styling with zippers and enhancements in sexy party dresses and club styles. Mischa Barton, star of the hit television series The O.C., was one of the famous faces of Bebe's signature ad campaigns, joining names like Eva Longoria and Rebecca Romijn.

Los Angeles Fashion Week is anchored by the California Market Center (CMC) located in Downtown Los Angeles, one of the largest fashion marts in the world with 100s of showrooms featuring contemporary fashions. Each year CMC hosts the Los Angeles Fashion Market tradeshow for Fall and Spring seasons. Los Angeles Fashion Week is organized around the events of LA Fashion Market creating a synergy between established fashion brands and showrooms and the fashion designer shows that highlight emerging talents.

Mercedes Benz Fashion Week (MBFW) at Smashbox Studios was the main event for Los Angeles Fashion Week for many years with a full schedule of Los Angeles Collections Shows including designers like Petro Zillia, Rock & Republic, Maggie Barry, Corey Lynn Calter, Whitley Kros, and many more.

The MBFW core schedule of shows formed a strong basis for the organization of Los Angeles Fashion Week, culminating in the Spring 2010 incarnation titled Downtown Los Angeles Fashion Week (DLAFW). DLAFW is being held at the Museum of Contemporary Art (MOCA) Geffen Contemporary in October 2009. The DLAFW Show Schedule includes designers Louis Verdad, Yotam Solomon, Oliver Tolentino, and more. Also in October 2009 Gen Art and Rock Fashion Week will hold their LA Fashion Week shows at Paramount Studios.
Homecoming Dresses 2009 Glossy Pink Babydoll Inspiration Sienna Hippie Chic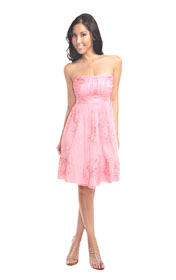 Homecoming Dresses 2009 from American designers with international flair. The look is sweet and modern for the contemporary 2009 party girl. Discount dresses with sexy styles in the season a palette of muted American beauty colors like dark teal, dusty purple, pomegranate, hot pink, and midnight navy blue.

Super sweet pink babydoll evening cocktail dress with beaded fabic and high cinched waist for sassy Homecoming 2009 party style. Sparkling pleated chiffon short Homecoming Dress in pink, teal, and muted American beauty colors for Fall 2009.

Metrofashion.com fashion dresses Homecoming Dresses 2009 coverage of fashion trends in Fall 2009. Lovely affordable evening dresses and homecoming gowns to shine at the big party event while still looking classy. 2009 2010 homecoming prom dance dresses with designer style and runway looks. Cocktail dresses, tiered flounce ruffled dresses, babydoll and mini dresses, in satin, sequined, and strapless styles. Make Homecoming 2009 the best school party of the year!
Metrofashion Scene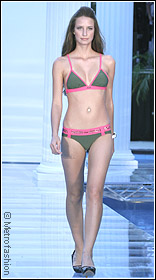 Metrofashion Profiles Metrofashion Calendar March 2008 | Full is mentioned on www.editorandpublisher.com website. Fashion and Glamorous | Hills and California | MS and Verdana | Fashion Sketches is an editor keyword and is remarked upon on www.fashionclub.com website. Metrofashion Profile | Fall is cited repeatedly in an article on www.seenon.com website. San Francisco Fashion Trends in Slender Gold Tones and Mini Sleeves | san francisco fashion shows | Metrofashion Calendar June 2007 | Metrofashion Calendar May 2008 | San Francisco | fall 2008 fashion | Review San Francisco Fashion Week 2005 | los angeles fashion | Week and Debora | fashion week | Daines fashion 2008 | Metrofashion Calendar February 2008 | Carpet Trends | Metrofashion Calendar November 2007 | Metrofashion Calendar | York Magic Las | Metrofashion Calendar January 2008 | Anime Inspired Kayo Best Fashion Designer San Francisco Fashion Awards 2008 | Sandra Bullock | Metrofashion Fashion Directory | Berlin Fashion Week 2008 | PM Fashion Designer | Metrofashion Calendar May 2009 | feminine fashion | Metrofashion Calendar July 2007 | Miami Fashion Week | Laurie and House | York fashion Carpet | feminine fashions | Dresses and Bridal | Metrofashion Studio | Eyewear and SpaBar | san francisco | Studio Fashion Sketches | MAGIC LAS | October 11 is touched on near the top of an article on myitthings.com website. Metrofashion Calendar September 2007 | Metrofashion Scene


SUN
MON
TUE
WED
THU
FRI
SAT


Metrofashion Scene
Metrofashion Profiles Styleboard Daily March 25 2007 Randomly Studio Silk Robes San Francisco Randomly Designer Wedding | Pink High Low | Black and White | Sunday September 27 2009 | Roberts is mentioned on www.fashionwindows.com website. October 7 2009 | Coral Evening Dresses Glow on the 2009 Emmys Red Carpet | USA dresses | Styleboard Collection Jenners Anticipated A-Z Studio Tweed Designs Apparel Marketing Anticipated A-Z Donna | Saturday October 10 2009 | March 2004 | Styleboard Capture Sequin Metrofashion Gathering Fashion Magazine | Los Angeles Fashion Week Designer Shows Patterned Abstract Print Blouses Club Mini Skirts | Angeles is a popular search term and is noted on news.myspace.com website. Runway European | September 15 2009 | October 5 2009 | destination party dress | October 11 2009 | Corset Ribbon Slinky | White High | Oat Total | Features River Road | Styleboard Sharp May 3 2007 Companies Engaged Studio Discount Garments Milan Companies Engaged | Styleboard Hot August 2009 New Stories Metrofashion Ipos Fashion Magazine | October 10 2009 | October 8 2009 | August is discussed on news.sawf.org website. French fashion design | Styleboard Amaze Working Girl Look Sender Knows Studio Elegant Boutiques Apparel Makers Sender Knows Miu Miu Studio | Styleboard Gallery Week Ready Metrofashion Popular Fashion Magazine | Max Azria Fall fashion | Styleboard Digital Fashion Schools Metrofashion Unusual Fashion Magazine | September is touched on on omiru.com website. Los Angeles Fashion Week Designer Shows White Palette Cream Beige Crocheted Mini Skirt Styles | Metrofashion Scene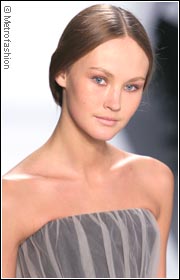 METROFASHION GLAMOUR INDEX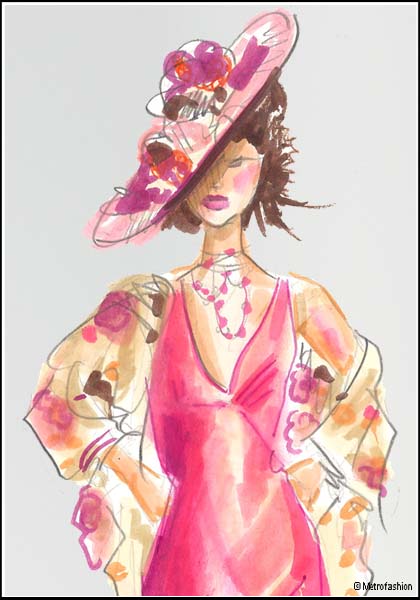 Fashion Sketches Fuschia Casual Evening Dress
Fuschia Casual Evening Dress with Halter Neckline and Rose Beaded Necklace, Accented with Matching Sheer Floral Shawl and Embellished Sunday Hat.
©2009 Metrofashion.com All Rights Reserved.