Los Angeles Fashion Week Designer Shows Tan Jeans Bolero Sweaters Easy American Styles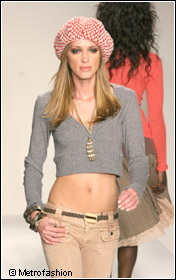 Los Angeles Fashion Week brings together fashion designers from the diverse spectrum of California styles. Ranging from the edgy contemporary rocker looks of Sheri Bodell and the red carpet gowns of Kevan Hall to the costume-inspired creations of Gen Art designers like Quail and feminine lines like Coco Kliks, LA Fashion Week exhibits the broad spectrum of 21st century fashion design.





Los Angeles Fashion Week October 2009

Photography ©Metrofashion.com. Rebecca Beeson for Los Angeles Fashion Week.

Contemporary American basics in neutral colors. Chic tops in bolero styles, cardigans, cotton blouses and shirts, and sport jackets. Rebecca Beeson is famous for her sexy tshirts and sophisticated chic sportswear. Celebrity fans include Olivia Wilde (House), Tori Spelling (90120), and Jeana Keough (Real Housewives of Orange County), Emmy Rossum (The Day After Tomorrow), and Heidi Klum (Project Runway). The Rebecca Beeson line is created in the artsy SOMA section of San Francisco and exhibits the San Francisco fashion flair for cool colors and understated chic.

Los Angeles Fashion Week is anchored by the California Market Center (CMC) located in Downtown Los Angeles, one of the largest fashion marts in the world with 100s of showrooms featuring contemporary fashions. Each year CMC hosts the Los Angeles Fashion Market tradeshow for Fall and Spring seasons. Los Angeles Fashion Week is organized around the events of LA Fashion Market creating a synergy between established fashion brands and showrooms and the fashion designer shows that highlight emerging talents.


View Larger Map

Mercedes Benz Fashion Week (MBFW) at Smashbox Studios was the main event for Los Angeles Fashion Week for many years with a full schedule of Los Angeles Collections Shows including designers like Petro Zillia, Rock & Republic, Maggie Barry, Corey Lynn Calter, Whitley Kros, and many more.


video courtesy YouTube.com user nikolaki2

The MBFW core schedule of shows formed a strong basis for the organization of Los Angeles Fashion Week, culminating in the Spring 2010 incarnation titled Downtown Los Angeles Fashion Week (DLAFW). DLAFW is being held at the Museum of Contemporary Art (MOCA) Geffen Contemporary in October 2009. The DLAFW Show Schedule includes designers Louis Verdad, Yotam Solomon, Oliver Tolentino, and more. Also in October 2009 Gen Art and Rock Fashion Week will hold their LA Fashion Week shows at Paramount Studios.